Idols are widely popular in Japan, they may come in groups, or as a soloist, we all have different tastes as to who we would idolize and become our personal favorites depending on the genre or your type as well. Some idols are not that lucky when it comes down to important things needed to last long in the industry, but some are fortunate enough to stand on the stage for 10 years or so.
ANGERME's Fukuda Kanon has been active in Hello!Project for roughly 11 years including her time as an Hello!Project EGG. Fukuda Kanon was part of the trainees who would participate in concerts/PV's as back up dancers, but Kanon had her first break when she was chosen to be part of a new unit (which was created for the anime Shugo Chara) Shugo Chara EGG. That's actually how I discovered Kanon, she had an adorable voice as well as she suited the character assigned to her which was Amulet Clover and since then, I've been a Kanyon fan and has decided to follow her as an egg. I was already an H!P fan prior to actually giving attention to the EGGS that time, but because of Kanon, I decided to follow the trainees as well. The biggest change happened to Kanon when she was chosen to be part of the newest group that Tsunku is putting together which was respectively named S/mileage at least after a month or two when the announcement happened, I was so happy since I'd be able to follow Kanyon more this time!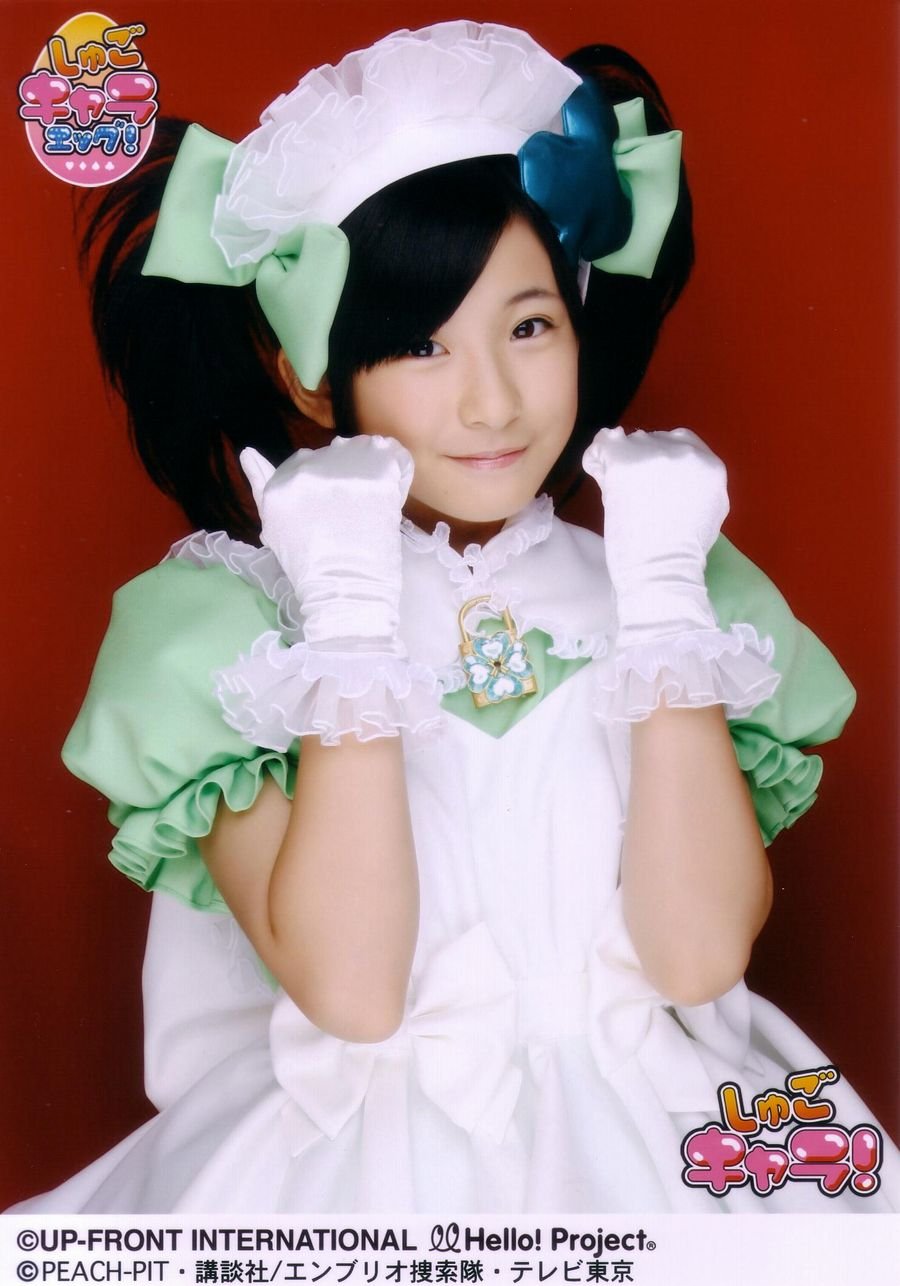 Not long after,

K

anyon has begun her work under S/mileage and released 4 indies single which were a huge hit especially when sung during concerts (specifically aMa no Jaku and Suki-chan).
Before being given the chance to major debut by Tsunku, they were given a challenge, which was to collect 10,000 Smile photos and to create a mosaic which was "Egao Campaign". I actually participated and sent in my smile photo to at least help them in any way. Of course everything went incredibly well and they were able to major debut collecting over 13,000+ photos!
During the first few indies of the group, Kanyon was actually one of the minor singers (which didn't stop me from being her fan lol) but upon nearing their major debut, she became one of the leads as well which made me super happy! I personally liked her voice the best out of the 4 since it had a spunk and naturalness in it. A year has passed and they have successfully released 5 singles (not including indies) and has released 1 album, and did a concert as well. During their 1st year anniversary, Tsunku announced the auditions for the 2nd generation members which I was so against as. Kanyon was already getting more and more lines so I was worried that the new members might sort of steal some of the lines Kanyon deserved, plus I simply couldn't imagine a non 4-nin S/mileage. In the end, the added girls were still so fun and adorable that I also came to like them, but I was so happy when Kanon still got a lot of lines and sometimes was center in some of their songs! During the announcement of the 2nd gen members as to who would become full time members, I was pretty pissed since Tsunku was actually thinking of removing

K

anyon as a full time member (which I'm pretty sure he was kidding about) and it did not leave a nice impression on me, I thought to myself "Tsunku sure loves to play with their emotions"... but all is well and in the end, I actually liked the new S/mileage better than the 4-nin one. Even after Maeda Yuuka's graduation, I actually liked 6-nin S/mileage the best!
The 6-nin S/mileage had a very nice run throughout the years, but their biggest achievement as S/mileage I would say is the Budoukan Concert last July 2014! I wish I could've seen Kanon on that concert! I watched the DVD and it was super entertaining! The ring/medley part was one of the best and I couldn't imagine any other groups having that concept, S/mileage was able to bring out their group's specialty... Making fun of each other!

I

n a good way! I was super happy that Kanon has been given most of the lines in each single but at the same time, there's still a sort of balance in the group. I've always followed her and have fun in watching her in everything she appears on~ Even after the success of their concert and singles, another shocking news came down, which was the addition of the 3rd gen members and as well as the disbandment of the name S/mileage... I was sad and shocked since I couldn't think of any other perfect name for the group. S/mileage now named ANGERME which is a 9-nin group, are actually doing better than they were before! The singles rocked and all the girls look amazing and all had fun personalities! Of course I was super happy to hear that another Budoukan concert was going to happen which was held May 26, 2015 (which is also S/mileage's anniversary date!)
Again, I was only able to watch it on DVD, but this was truly an amazing and mind blowing concert! Kanon (or now known as Maro)'s solo MC was super adorable and she absolutely did an amazing job! The concert was a success and it seems like this is truly ANGERME's year and I was so excited to see more of Maro and what their next/coming singles would be like... but just before the concert, Maro announced a very shocking and quite unbelievable news, is that she would be graduating from ANGERME/Hello Project in fall

...
I was so sad and couldn't believe my ears while she was talking, I like the group itself, but I wasn't sure if I would be able to support the group after she leaves which I'm quite sad about, but she's my favorite member out of all the H!P members and has always been, I've been her fan since 2008 and I have seen her grow and become the idol she is now, which kinds of leave a familiar notion for me to always see her whenever I watch H!P... So I wasn't sure what I would do if ever I wouldn't be able to watch her anymore... At the time of her graduation announcement, it was also around the same time that they announced their new single which was their first Triple A, I was happy about it but then realized, I didn't want that single to be Maro's last single with the group, she deserves a more "bang" and "pow" in her last single...

B

ut! Luckily enough! she was given a proper last single, another Triple A with one track as a solo track which she also wrote herself since she wants to pursue becoming a lyricist after she graduates

.

N

o other H!P member has decided to take this path so I was happy upon the announcement that Maro is the first member to do so, as well as writing the lyrics for their own single! She is also the first member of the group to get a proper graduation ceremony, which again will be held in Budoukan 11/29/2015! Maro is also the first H!P member who is not in Mom

u

su to get a solo in a graduation single.

O

verall I am super happy that they've really put time and effort into Maro's last days as an ANGERME member since they're also release an album!
---
Maro's last single is again a Triple A single

Desugita Kui

wa

Utarenai

/ Dondengaeshi / Watashi (出すぎた杭は打たれない/

ドンデンガエシ/わたし)
---
I'm also pretty hyped with her last album with the group so be sure to check that out as well!
---
Maro has been a very active and noticeable member in Hello Project and will always be remembered as Cinderella's Reincarnation! Please continue to spread the Maro Revolution and become the best lyricist and surpass Tsunku!~
Sotsugyou omedetou Kanon!!
art by http://micaela.kaw

aii.ph